Petrie & Konig Top Riders
Anky van Grunsven

With her outstanding list of awards we can safely say that Anky van Grunsven is the worlds very best dressage rider. For years she has topped the list with impressive wins with her horses Prisco, Bonfire en Salinero. Petrie, in collaboration with Anky, has designed two exclusive dressage boots, the Anky Dressage boot and the Anky Elegence, two comfortable and beautiful dressage boots which will more than satisfy the demands of the professional dressage rider. For more information on Anky van Grunsven go to www.anky.nl.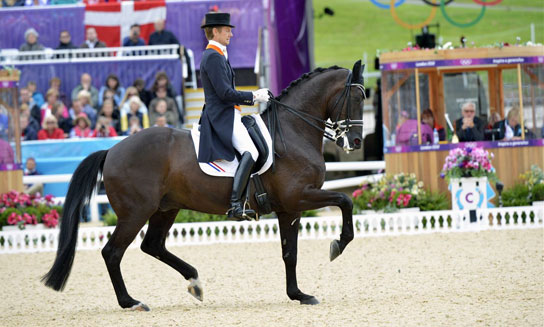 Edward Gal

With the unique horse Moorland Totilas he enchanted every horse lover. Nowadays he rides many talented horses such as Glock's Undercover. Of course we are talking about none other than Edward Gal. With the 10 horses he rides everyday and the amount of lessons, Edward demands the highest quality and durability of his Petrie boots. "At home I always ride in the cognac coloured Polo boot. They are comfortable and I like the colour. For competitions I wear the Petrie Anky Elegance Dressage boot. This boot has an extra high leg which gives it a really smart look. "After all its not just a matter of comfort, one needs to look good as well" Edward says. For more information about Edward and his horses www.ghpc.nl
Adelinde Cornelissen

Adelinde Cornelissen is riding for years with Petrie Riding boots. Together with her horse Jerich Parzival she is one of the leading dressage riders of the world. With Jerich Parizal N.O.P. she won individual gold on the European Championships, she won the World Cup Finals and at the Olympics in London she won both the bronze team medal as individual gold. On the beautiful Estate Balkenschoten she trains her horses.
Hans Peter Minderhoud

Hans Peter Minderhoud is a big fan of Petrie Ridingboots. Hans Peter: "I find it very nice that Petrie has more to offer than standard models. I love to ride with boots with a noticable colour and look. For instance, I love de suede colours and Polo model is one of my favourites. At competition I prefer boots with a high top because of my long legs. About the quality I can only be positive. I ride about 10 horses per day so I can safely say that my boots have something to endure." Look for more information on his website www.ghpc.nl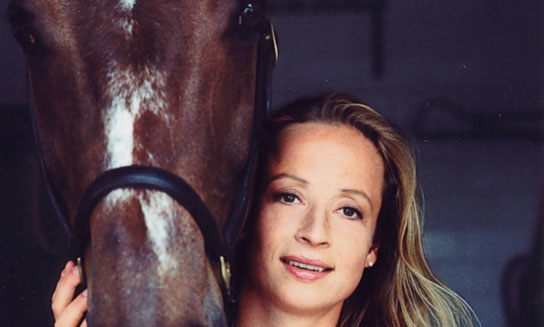 Isabell Werth

With the many Olympic medals and World Champignonship she has won Isabell Werth is one of the worlds best dressage riders, and definately the queen of dressage in Germany. Even after 20 years of Grand Prix she still rides at the top. From 2013 on Isabell will also ride with Petrie ridingboots. For more information about Isabell Werth please check www.isabell-werth.de
Gert Jan Bruggink

Gert Jan Bruggink is one of the top showjumping rider in the Netherlands. With several horses he contributed to important Dutch teams and individually he has won important prices such as in Aachen 2004 and Amsterdam 2008.

Even with only one rein left, as happened in 2013, Gert Jan manages to ride a jump off! Together with his wife and German showjumping rider Pia Luise Aufrecht he runs Stal Het Oosterbrook and wears Petrie Ridingboots for many years now.
Sharon Hunt

Sharon heeft in haar succesvolle carrière als eventing ruiter meerdere paarden opgeleid. Het beroemdste paard dat ze heeft opgeleid – vanaf zijn vierde jaar - is waarschijnlijk haar eigen Tankers Town op wie ze deelnam aan de Olympische Spelen van 2008 en waarmee ze ook de felbegeerde CCI 4 * in Luhmuhlen (2010) won, zo behaalde ze ook successen met Badminton en Burghley.

Wat misschien een minder bekend feit is, is dat Tankers Town (of Jasper) niet het enige paard is dat door Sharon is opgeleid om te worden geselecteerd voor de Olympische Spelen. Kenny, opgeleid door Sharon, werd geselecteerd voor de Olympische Spelen in Londen in 2012 voor het Braziliaanse team, hoewel hij uiteindelijk helaas niet in staat was om het te halen. Romeo Z, een ander mooi paard opgeleid door Sharon, kreeg een gouden huisje bij een junior ruiter en won vervolgens team goud en vervolgens Young Riders met dezelfde ruiter en nam vervolgens ook team brons mee naar huis.
Abi Hutton

Abi moved from Ireland in 2009 to pursue a career in horses but had a keen interest in dressage. Since then, she has achieved more than she ever expected, competing all the way from novice to Grand Prix with a string of horses. She won a regional title, has had top 3 placings at numerous National Championships and has represented Ireland at Small Tour and was invited in 2017 to compete at the World Young Horse Championships in Ermelo. Her current competition horses are a really exciting bunch including her stunning 7yr old Giraldo and beautiful Grand Prix horse Don Dino. Abi is proof that with hard work and determination, even those with a completely non horsey background can make their equestrian dreams come true.

Charlie was raised in an equestrian dynasty at Talland, and took up dressage seriously at the age of 15. He has won Youth Olympic gold and silver medals, won 6 national titles and won internationally for Great Britain at senior level. Charlie is also an extremely established coach, he teaches all over the world and is the current dressage mentor for the BEF Excel Talent Programme. Charlie is beyond hard working and dedicated to the world of dressage. He has some beautiful young horses for the year ahead and the stunning black mare Seagry Sanay owned by Seagry Stud.

As a team, Abi and Charlie both bring their own styles of riding and training together to run a beautiful yard in Wiltshire.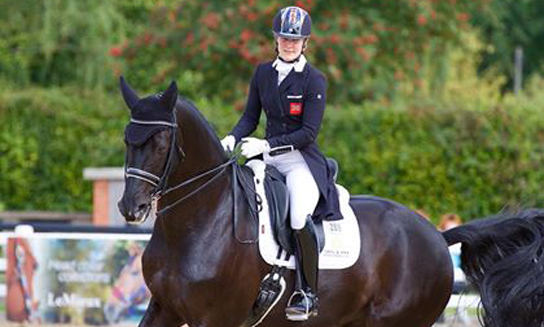 Hayley Watson-Greaves

Hayley is one of Great Britains top International Grand Prix Dressage riders. With her long term partner Rubins Nite she has danced her way to become The 2017 British Dressage Supreme National Champion. Was a finalist in the World Cup at Paris and has also been a winning Nations Cup Team.

Hayley is a renowned trainer and runs clinics and demonstrations world wide. Hayley loves her Petrie boots. She has a beautiful pair of blue patent, a black patent competition boot and a pair of nuebuck fur lined winter boots. They are so comfortable and so stylish, wonderful designs. She even wore them for the outside photos at her recent Winter wedding.